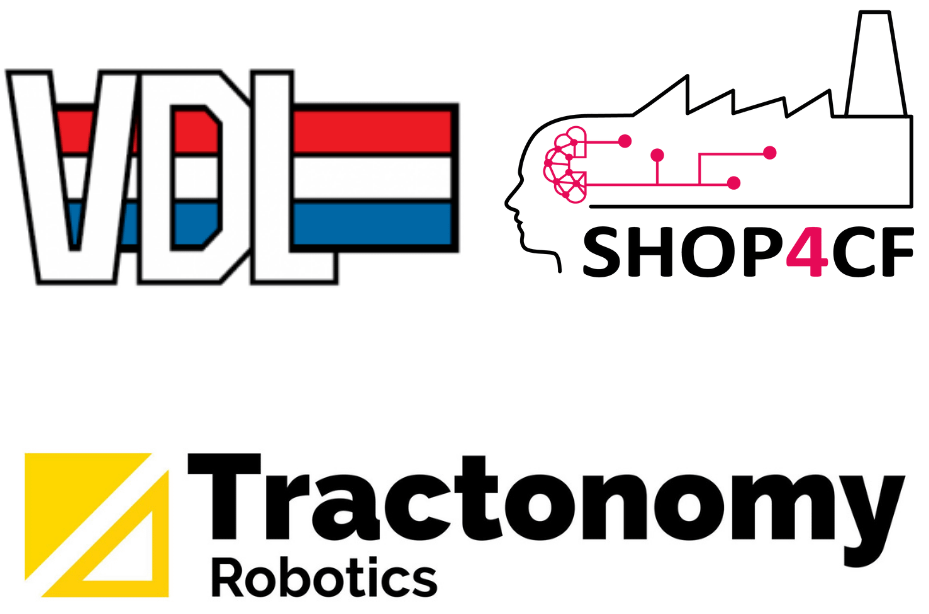 Tractonomy Robotics latest ATR2 robot to collaborate with VDL Industrial Modules in the frame of the EC's SHOP4CF project.
Tractonomy Robotics – supported by the European Commission's  SHOP4CF project – has teamed up with VDL Industrial Modules (IM) to collaborate on a pilot installation of Tractonomy's ATR2 autonomous towing robots and on the validation of the benefits of Ultrawide 'Band (UWB) localization technology for navigation in dynamic factory environments.
The use case set up by Tractonomy Robotics and VDL IM will showcase how a wide variety of carts and pallets are handled by a single robot and also illustrate human robot interaction to improve intralogistics work in high-mix low-volume factories. It will also clearly illustrate how people benefit from having repetitive work performed by these assets
The various internal logistics processes at VDL IM are overly complex due to the variability of the type and size of materials needed by, in this use case, the assembly teams and coming from a large warehouse. These materials have a large variation ranging from small components to large metal frames and sub-assemblies. Material flows involve both custom built logistic carts and standardized pallets. This makes the internal logistics quite challenging as multiple sizes of goods need to be transported internally over various locations on pallets and with trolleys.
With the help of Tractonomy's latest ATR2 robot, VDL IM's skilled workforce will be able to save a substantial deal of time from repetitive tasks as the ATR2 will take over these tasks in different environments, carrying multiple materials from a multitude of locations to the assembly areas and back. The factory has constantly changing floor spaces, due to the flexible workplaces for project-based production in small batch sizes, which makes it extremely difficult for traditional robot localization technologies. Tractonomy's ATR2 robots will work with UWB anchors, strategically placed in difficult to navigate areas, to deliver maximum reliability and safety while towing carts with a wide variety of materials.
The team will also study how active asset tracking using UWB can enhance human-robot task automation.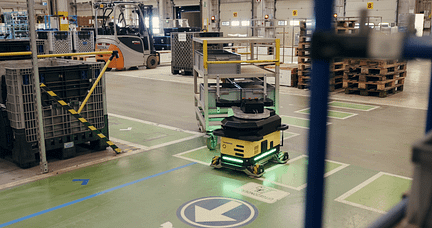 The results of the project will not only contribute to a significant gain of knowledge of the impact of robots on humans, but also show how VDL IM can benefit from automating a variety of complex material handling tasks by flexible assets.
To learn more about the project, contact Keshav Chintamani via this link.
About Tractonomy Robotics
Tractonomy is a leader in intelligent autonomous robots. With our solutions we bring predictability to customer operations by creating the most cost effective and fastest way to transfer materials in warehouses and production sites including non-conveyables. We focus on developing solutions that make warehouse and logistic operations easier to manage thereby nearly eliminating the risks for any incidents with the workforce. With a team of renowned experts in robotics, industrial engineering and AI, we have developed the world's most intelligent autonomous robots that can manage any operational complexity in an autonomous way. Tractonomy is located in Ghent, Belgium.
Contact us for more information here. 
About VDL Industrial Modules
VDL IM is a subsidiary within the industrial conglomerate VDL Groep. VDL Groep consists of more than 100 companies with over 17.000 employees worldwide.
VDL IM is a company that is specialized in development and production of machines, modules and 'specials' for OEM's. VDL IM offers in-house R&D and application expertise in the field of "weighing, cooling/heating, positioning and design of frames and covering" for small to medium series production. VDL IM supports (OEM's) in various high-tech industries such as energy storage, semiconductors, healthcare and food processing. Using an extensive engineering department, various assembly departments and three internal 'manufacturing factories' are served with orders for the production of parts and assemblies for customers. With the aforementioned complexity, logistics processes are therefore of vital importance. VDL IM is located in Helmond, The Netherlands.
Check out this link for more information. 
About SHOP4CF
SHOP4CF (Smart Human Oriented Platform for Connected Factories) is an EU-funded project within the Horizon 2020 program that aims to create a unique infrastructure for the convenient deployment of human-centric industrial applications.
More information on SHOP4CF can be found under this link.