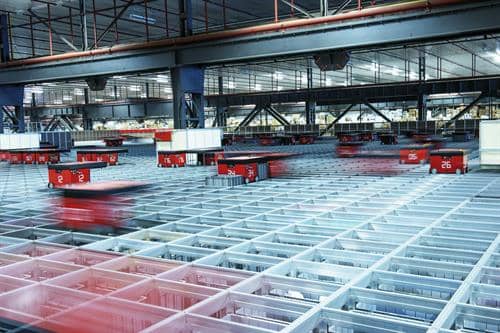 The Future of Last-Mile Logistics? Automated Robots
Automated storage has gained a solid foothold in most logistics operations but in most cases one key step has been missed.
This is where Last-Mile Logistics comes in. An interesting subject of discussion in the world of automation.
So what does Last-mile logistics mean in the world of logistics?
Last-mile logistics (LMD) represents the final stage in the e-commerce supply chain, where the product moves within the warehouse to the location from where they will be shipped from the central storage area and back.
With the arrival of solutions like Autostore, warehouse owners have made significant progress in automating their logistics processes and addressing their productivity challenges.
But even efficient solutions have quite some limitations, as we often forget one important thing and that is to address the full automation cycle not just part of it.
This is where the last-mile approach comes in. As explained above the products are handled more efficiently but are still stuck in a central part of the warehouse. What often happens is that many people get involved in picking up goods from the central area and bring them to the loading bay and back.
This is a very unproductive process that creates a lot of loss in time – not to forget about the health risks – and it doesn't really value the role of the colleague having to walk long distances back and forth.
Even using forklifts has its limitations as they are mostly over-dimensioned to bring back and forth pallets with the extra safety risks they bring along.
It's not strange that last-mile logistics have become such an important element, most vendors and integrators tend to focus on what they sell and often don't complement these solutions to address the entire logistics chain.
In all our conversations with logistics operators where they had installed a goods-to-person automated storage and retrieval system, the last mile was seen as the big missing item of their logistics puzzle.
Where the automated storage picks and prepares, an autonomous mobile robot picks up the goods, whether they are on a cart or on a pallet and brings them to either a pick and drop area or the loading bay.  
By doing this it avoids the use of humans, they can then focus on more specialized – less heavy – work at the loading bay or in pick and drop area.
By adding mobile robots and make them work alongside the automated storage solution, you can guarantee a true end to end automation process at the warehouse or logistics center.
The big advantage of adding the mobile robots is that they pay themselves back in less than one year which makes the addition a logic next step in the automation of your warehouse or logistics center.
Whatever the number of shifts and the number of carts or pallets to be picked up, the robots can work in as many shifts as needed and in a continuous mode carry the shipments to the defined areas.
Want to find out more?
Contact us via info@tractonomy.com and let's discuss how your warehouse can become truly full automated and increase both productivity and profitability.