Light Detection and Ranging or LIDAR sensors play a central role in Autonomous Mobile Robot (AMR) navigation and safety but they are just one part of a bigger safety architecture in an AMR system…
In a simple safety implementation, an AMR can slow down or stop by detecting if a hazard exists or not in its LIDAR (laser) scans. This is ineffective because it does not account for the dynamics of the AMR and its environment. A person walking 10 meters away does not necessarily represent a hazard. What if the AMR is turning around a corner? What if the hazard is slowing down? The simple case makes the AMR respond too soon or too quick, making it unusable in high traffic industrial environments.
Another option is to monitor hazards seen in the LIDARs based on the heading and speed of the AMR. The AMR essentially monitors a "field" in the LIDAR scan as a function of its direction and speed. This approach called Safe Field Monitoring or SFM significantly improves an AMR's safety while enhancing its operability in high traffic environments.
SFM is a standard feature in Flexi Soft safety LIDAR solutions from SICK which are rated for critical safety applications at a Safety integrity level 2 (SIL2, IEC 62061) or equivalently Performance Level d (PLd, ISO13489-1). SIL2 or PLd are safety ratings required by machines where the accident risk involves critical injuries or death. While they support a range of AMR drive mechanisms such as differential drive wheels, i.e. which drive forward and backward, while turning around their wheel centers, certain changes are needed for omni-directional robots that use mecanum wheels.
Omni-directional Autonomous Towing Robots
Tractonomy Robotics develops omni-directional Autonomous Towing Robots (ATRs) that find and tow a variety of carts in areas with high personnel and vehicle activity (e.g. picking, fulfillment). Our ATRs use omni-directional wheels and smart motion control combined with a proprietary docking system to position in front of a cart, pick it up and drive it safely to a desired destination. Tractonomy's ATR1 offers a towing capacity of 400kg and the ATR2 will offer a towing capacity of 1000kg. With these large masses and driving speeds up to 2m/s in crowded factory and warehouse environments, safety is critical. The challenge is omni-directional robots with mecanum wheels need special kinematic models to estimate speed and direction and SICK's FlexiSoft solution do not work out-of the-box for our robots.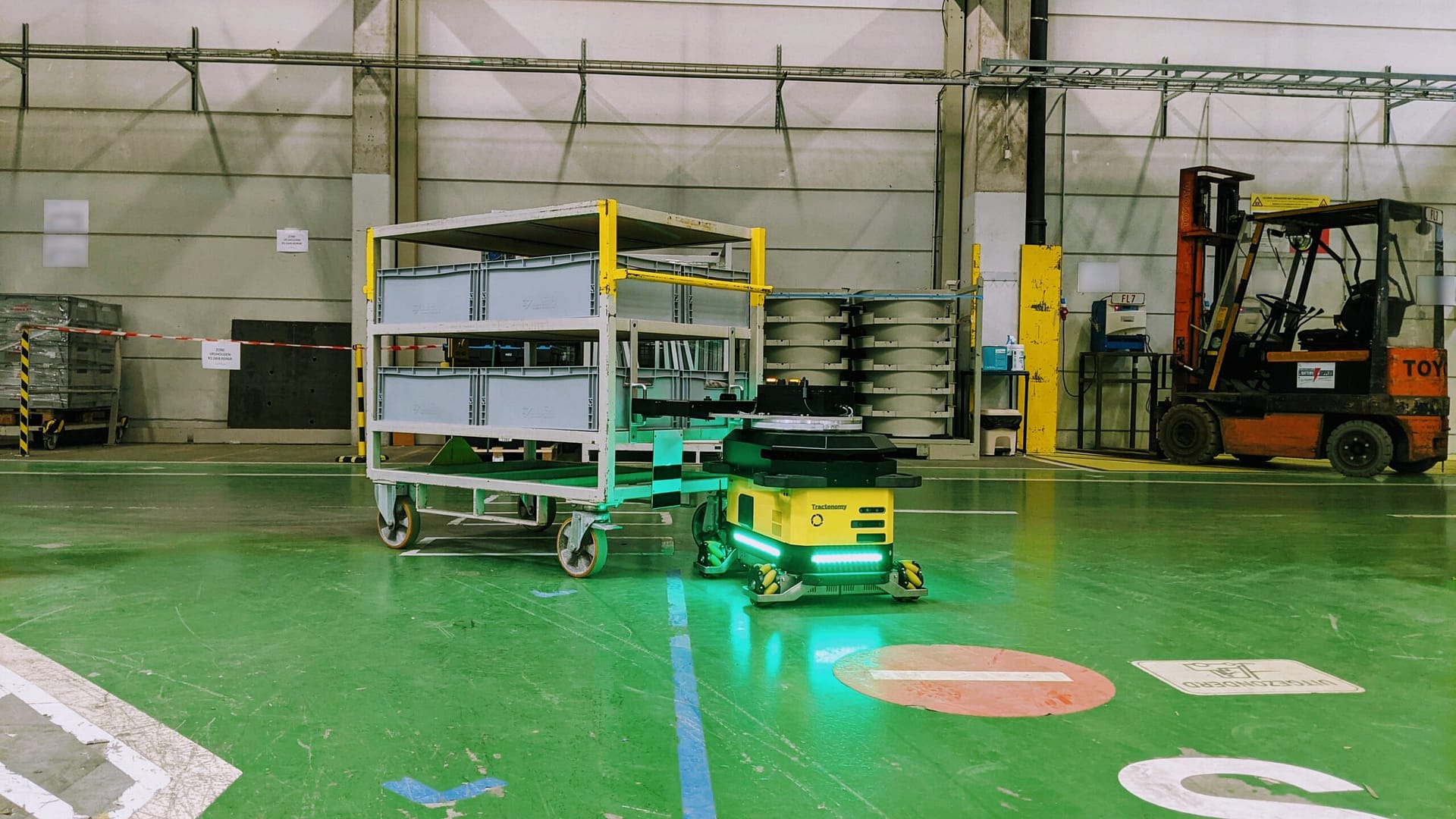 Tractonomy and project partners SICK Belgium and Daikin Europe were awarded the prestigious COVR award by the European Union's Safe Around Robots project. The award's goal was to add SFM functions to our ATR1 enabling it to move towards SIL2/Pld ratings. Engineers at Tractonomy Robotics aided by Safety engineers from SICK Belgium developed and verified a new safety architecture that allows the Tractonomy ATR1 robot to achieve robust SFM performance as a traditional differential drive robotwould deliver with a complete Flexi-soft solution including speed and monitoring modules.
By comparing speeds from different sources, we integrated the Tractonomy ATR1 with Safety Field Monitoring capabilities in all its speed and direction. The design allows 360° SFM but in the project, we limited the scope to 270° SFM since only one forward facing SICK NanoScan3 Safety Laser Scanner is available on the ATR1. Since the ATR1 never drives backward in all its operations, it does not use a rear-facing laser scanner. However the ATR2 will provide a rear-facing laser scanner.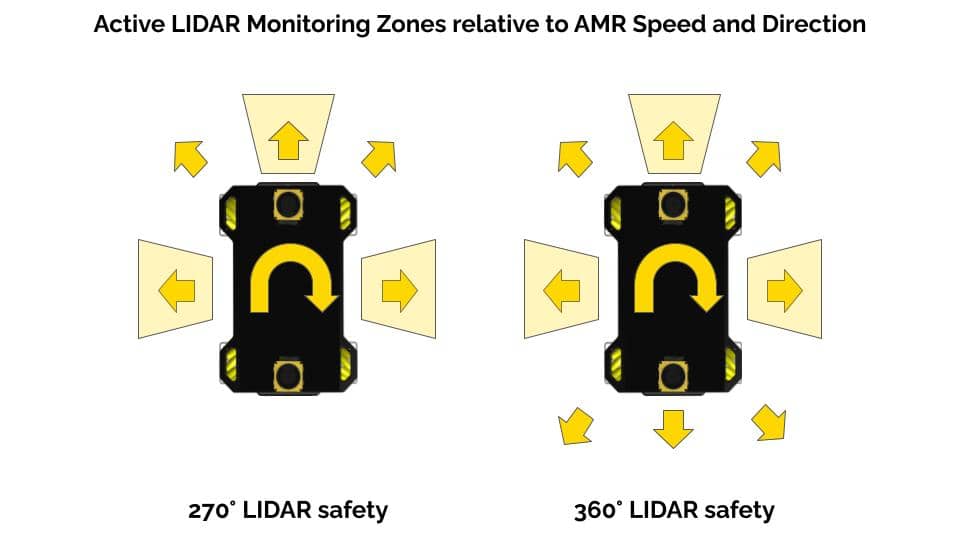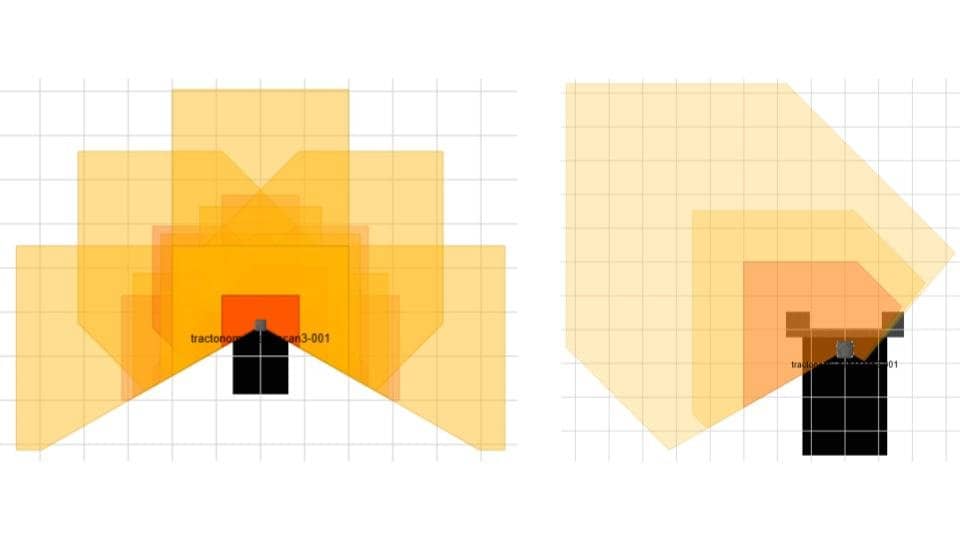 Two validation protocols were developed in the project to help us verify the correctness of the implemented safety fields. While executing the project, we realized that it would be more beneficial to the community at large; if the protocols could support the verification of a robot's safety field monitoring solution. We performed a literature review of validation protocols specifically for SFM and we found none. So we re-directed our attention to the development of two protocols listed below:
Test Mobile Platform to Maintain Safe Speed with Adjustable Safety Fields
Test Mobile Platform to Adjust Safety Fields Based on Heading
These validation protocols will be improved further by the Safe Around Robots project and made accessible to benefit robotics developers who want to test their SFM implementations.
Safearoundrobots.com is a one-stop-shop for safety for collaborative robots. It helps you along the way on the journey from market research to having a safe, commissioned cobot. You will find inspiration through case stories, guidance on how to do risk assessment, a tool for finding relevant standards/directives/protocols and much more.
Developing AMRs for real world business environments is a non-trivial activity, particularly when it comes to safety. The safety offered by an Autonomous Mobile Robot (AMR) is an unavoidable topic when an buyer discusses a solution with a vendor or integrator. It often precedes price and performance. Accidents are unacceptable in industrial environments so AMRs need to implement a range of advanced safety functions to deliver safe and repeatable performance everyday.
Thanks to the COVR Award, we've developed and verified this advanced safety concept in our ATR1 product with safety experts from SICK and logistics engineers at the Daikin Europe factory in Oostende, Belgium. You will find these advanced capabilities in all our ATRs.
OMNISafe has received funding from the European Union's Horizon 2020 research and innovation programme under grant agreement No. 779966 – realistic trial ID 9632737084