Start Automating your Cart Logistics

Carts are so popular in internal logistics that it is easy to forget how repetitive and monotonous it is when your staff handle them by walking, with forklifts or industrial trucks.
The Autonomous Towing Robot2 or ATR2 can dock and tow with most carts and least effort. It does not matter how wide, long or tall a cart is. ATRs safely transport carts across facilities; all managed at the application level by our state-of-art fleet execution software.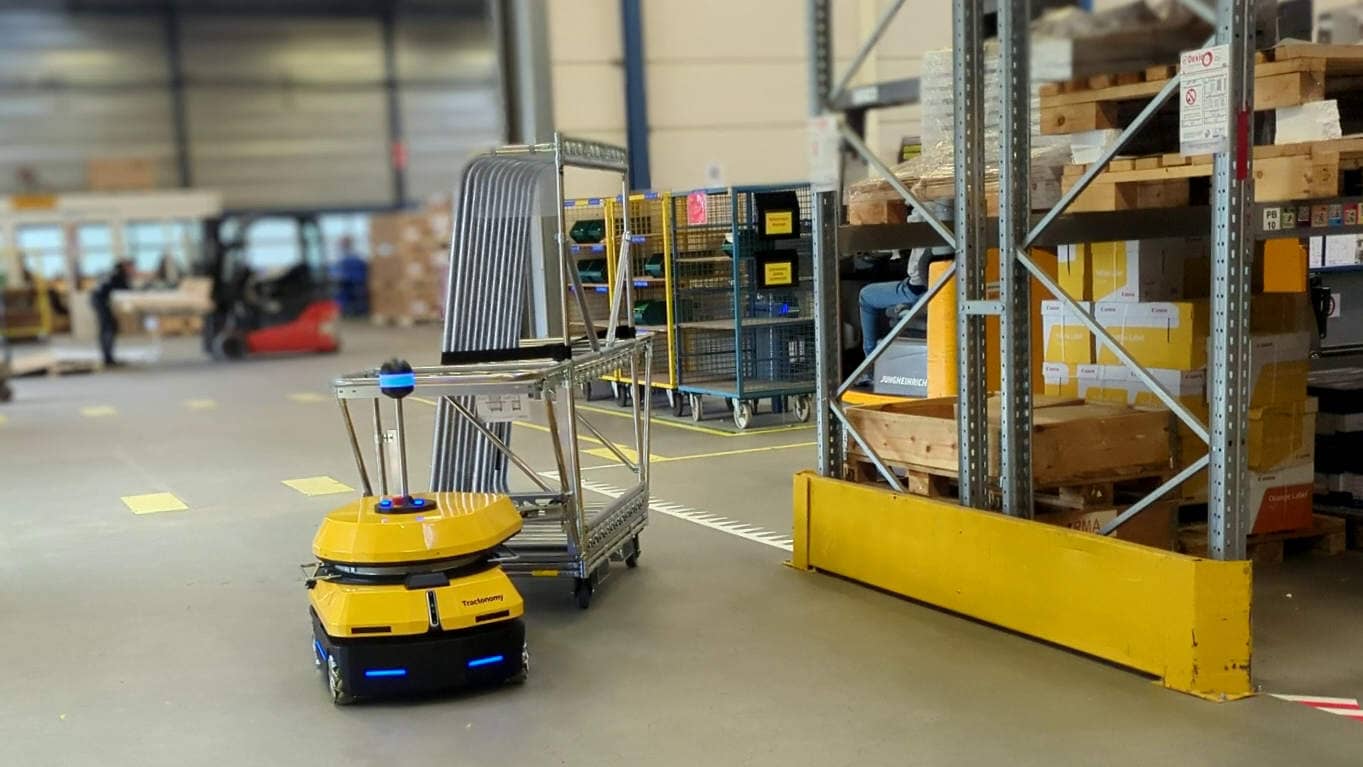 How it works
Starting moving your existing carts by adding a simple hitch or no hitch at all. ATRs use smart technology to identify carts and transport them to where you need them. ATRs can be deployed as a single or many robots. ATR solutions work as standalone solutions or integrate with WMS, ERP and in Machine2Machine (M2M) systems.
ATRs dramatically reduce driving and walking time leading to major savings in short periods. They offer a safe alternative to injury-inducing cart or pallet transport work and reduce risk of forklift accidents.
Autonomous Towing Solutions for Carts
We offer efficient and productive solutions for logistics use cases.  As a full-stack solution provider, we offer integrated fleet solutions to handle cart transfers in your facilities.
Autonomous Towing Robot 2 - ATR2
The ATR2 is a class-leading autonomous tugger robot. With industry-first adaptive docking arms, safety navigation and the highest towing capacities in its class, fleets of ATR2 robots can scale across your material handling operations.
Adaptive docking of a wide range of carts carts
Standard gross towing starting at 600kg
Higher towing capacities possible

Can handle carts with both caster-fixed and all-caster wheels

Speeds upto 2.0 m/s

Safety with 360° area monitoring and brakes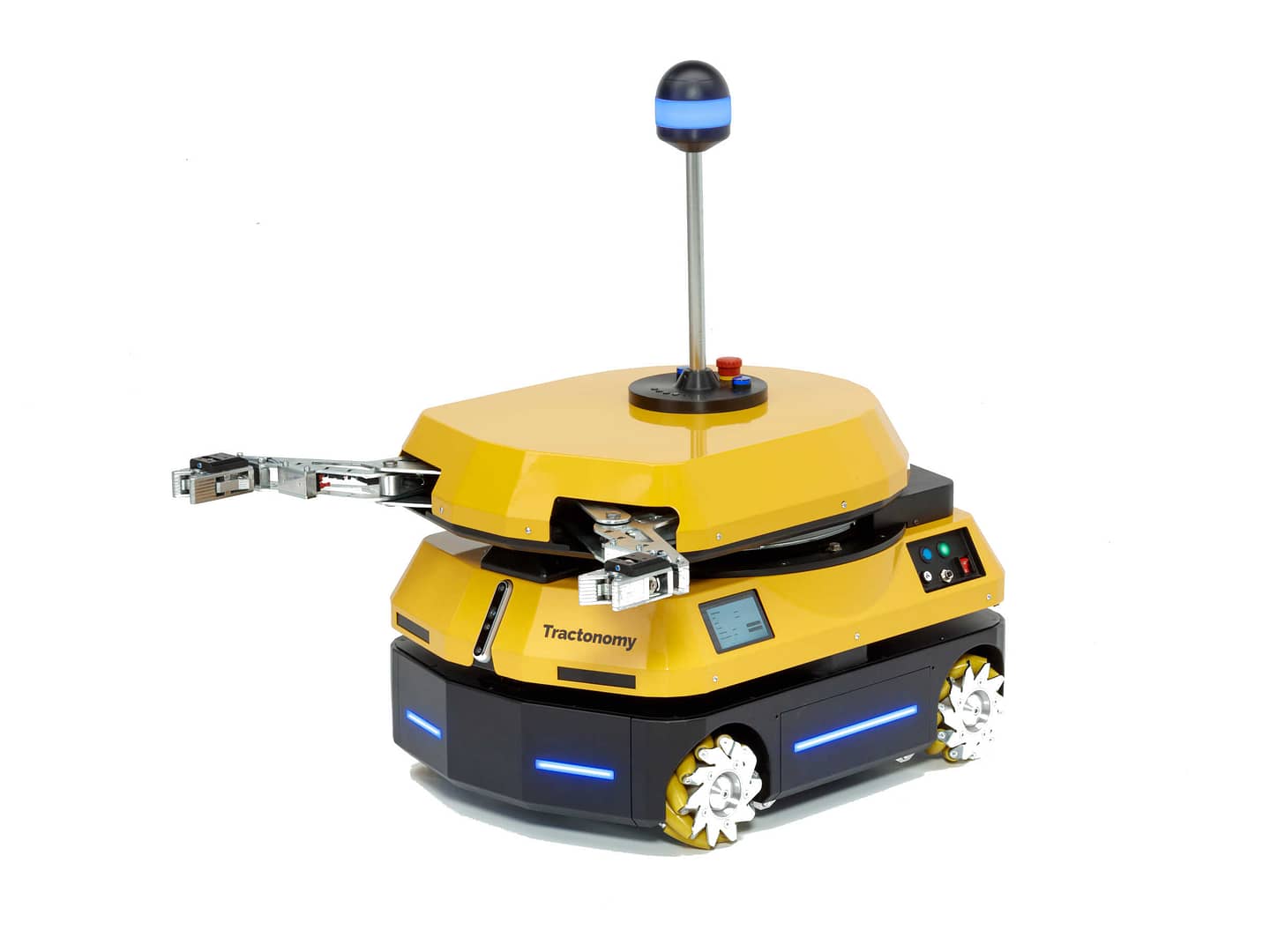 Cart Hitches and Robot Grippers

Towing robots can grip carts with or without any modifications to your existing carts. Our default option is our secure dock technology which requires a simple hitch fixed to the cart. We offer customized gripper designs to tow carts without secure dock. 
Send us pictures of your cart and we'll suggest the best option for your application.
Safe and Maintenance-free Inductive Charging
ATR2 robot integrate state-of-art inductive charging from leading German power solutions provider, PULS ELECTRONIK
Our charging stations are non-contact –  no sparks, contacter maintenance or electrical risks. Just safety and hassle-free operations.
With 3 kilowatts of power, an ATR2 can be operational in less than 20 minutes. Pair it with our opportunistic charging algorithms to get a long lifetime from the batteries. We use reliable and safe battery solutions – CE compliant and UL rated.
Simple Traffic Management and Flow Design

Our advanced Fleet Execution Gateway controls fleets of ATRs for 24/7 operations. Start with a floor plan of your site, overlay it with a live map from our robots and define a traffic plan for your ATR2 fleet. Its that simple. 
Multiple ATR2 robots use a concept of lanes to drive around the facility, just like your pedestrian or industrial trucks. Managed fleet traffic provides repeatibility and predictability in your factory or warehouse.
Lanes are purely virtual – i.e. defined in software. No need for magnetic strips in the ground.
Benefits of Autonomous Cart Moving

Our ATRs work with existing carts with minimal effort 
Offer productive and improved work conditions for your staff 
Create predictability and error-free material transfers
Lower accident risks and enhanced safety
Looking for a cart transport solution that is predictable and productive?

We can help you estimate an optimal solution that provide returns on investment in short periods
Learn how our cart towing solutions can work for you
Integrations with Goods-to-Person Systems

Accelerate ROI by using towing robot solutions to feed materials in and out of your autostorage or goods-to-person investment.
Picking and Putaway with Carts

Dramatically cut walking time in by using robots for case picking or non-conveyable goods picking, kitting,  milk runs and other applications.
See how much productivity and savings you gain with Autonomous Towing Robots
We have demonstrated how easy it is for companies, big and small, to benefit from autonomous towing robot solutions. Using simple approaches for maximum success coupled with quick payback periods as low as 1 to 1.5 years - we help you maximize productivity and profit. 
Copyright © 2018-2023 Tractonomy Robotics BV.