Automation in the warehouse will be one of the biggest challenges
Tractonomy Robotics recently caught up with Jan De Kimpe, one of the leading experts in logistics and a Partner at consulting company Logisol Pro, to discuss his experience, the challenges in our industry and what he considers as the key trends. An interesting chat with some great insights from a leading expert.
Can you introduce yourself, your company and what you do?
My name is Jan De Kimpe, I have been for more than 30 years active in logistics services mainly as an expert, closely working with customers because solutions can only work if we set them up and manage them in close consultation with customers. I wanted to be different from other consultancies that rather play on their knowledge base and far less on the collaboration angle.
My basis lies in economics, after university I started working at the newspaper Het Volk, moved on and started a magazine business (his first introduction to logistics), then as a consultant at Packinn for palletization and packaging software and the development of the WMS software.
After working at the KPMG consulting supply chain practice and IBM, I started with Logisol Pro, my own consultancy. Since then I have had the pleasure to work for names like Johnson & Johnson, Medimarket, Kramp France (active in agricultural and horticultural tools) and many more.
I worked especially on improvement projects and network studies, transport optimizations, stock level optimization, etc… most often in distribution.
What do you see as the big challenges for the industry?
Jan: "I see a number of challenges:
– How to control the supply chain, mainly products or components made outside of Europe. How to control these flows, this has become very critical after COVID, Brexit, the Suez Canal problems, the limited availability of containers (due to the delays linked to Brexit and towards the US due to speculative actions). There is a lot of speculation involved to buy and sell items at the right time, if volumes change somewhere in the chain it impacts the rest of the chain. I consider this to be one of the biggest challenges today just think of the war in Ukraine, speculation, risk aversion,…. this is enough to cause interruptions in the supply chain.
– How to avoid overstocking because stocks and warehouses come with heavy costs, not to mention the human costs, the cost of and linked to storing,… on the other hand, companies also need to keep more stock when suppliers prove unreliable.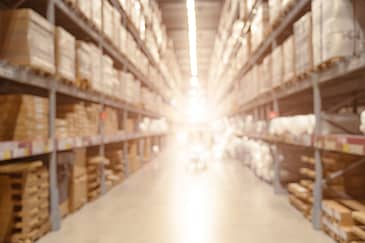 – More automation, there is currently a lot of research going into the automation of the warehouses, the picking and the storage, picking and automation systems, all due to the increase in human costs, material costs, storage costs, everything gets more expensive so how to further automate….
And what are for you, the big trends you see in logistics ?
Automation: both hardware and software automation. Complementary to people we see the robots, and the machines supported by machines. We see greater intuitiveness in people and this as a result of applications and machines which means less training is needed, think of the forklifts that stop when they get too close to people. I do see positioning technology going to play a bigger role.
Sense of purpose: Moving more with less people or smart automation. Increased automation of what can be automated and the people positioned around it. People are often reluctant to do certain tasks so people need to find other solutions especially when it concerns goods that are polluted or dangerous, repetitive work,… people are looking more for the fun factor (think of the gamification of the work floor), people need to be empowered, need to be motivated, ….
Finding the right means of transport for products linked to the overall sustainability approach.  The effect on the environment of transporting products plays an important role so we see more electrification but also all other ways of transport need to be revisited. As we get smaller shipments and those shipments take up space and space is costly, we need to focus on bundling so we decrease budgets and help address the environmental issues. We are seeing an increase in the bundling of transportation, instead of many separate rides, we see bundled transportation.
In a previous interview my interviewee Rod Turner told me that logistics was often treated as not important esp. before COVID but now it is suddenly has become a major focus for companies, what do you think?
Logistics has always been seen as a cost and has a direct impact on the company's margin but many companies are very successful thanks to their logistics approach think of Kramp, Amazon, DELL, ZARA and the likes. They are all very well-known brands that have made logistics their core business, have always responded very fast to changes and have built a very important success model as a result. By looking at logistics in a different way, they have turned this into a decisive element and been able to build a successful business
A great example is the way DELL computers could be configured online and build into a model to deliver it customized in a very fast way. This could only be done with the help of solid ERP systems from ordering components, to assembling products to personalization over to delivery and invoicing. Regardless of location, one can move quickly. The entire logistics process is getting more attention again and so it should be.
Many thanks Jan. Very interesting insights!
To get in touch with Jan, check out his LinkedIn profile here.